It is not easy to write about something that has happened already one month ago, but I think it is better to share that ¨old¨ moment instead to have it lost.
When I landed at Svalbard, I was indicated to taxi at the east side of the apron. It was a long flight, plenty of adventure, flight, even ¨mystic flight¨. Not even sure about being able to land at Longyearbyen, it was fantastic when I was positioned at the left base leg before landing.
The scenery was incredible, and once I shut down the engine and had the Turn and Rate gyro spinning down (it is a Phantom F4 fighter one), I opened the canopy and felt the peace of the area.
I stayed there a few seconds, or may be minutes, I don´t know.
It was night, but it was day.
I started to prepare my stuff and then the follow me driver arrived.
I have to tell you that since the very beginning until the departure, he has been really nice and helpful. What a difference with Resolute crews! As Longyearbyen latitude is bigger than Resolute, I am wondering if the kindness was related with longitude at those places.
I visited the Airport Tower Controller, to thank him. He told me that they were about to start the search and rescue procedures for me. It is astonishing to learn that Canada never confirmed my take off from Resolute and that they were to start those procedures without being sure if I took off already.
Tom Are was going to arrive later, for duty. He is Dornier 228 pilot working for Lufttransport A.S airline, a company that flies charter mainly into mining companies, and also Coast Guard and Medical Evacuation.
First thing that Tom did, was to drive me into a small and nice apartment, for me to rest. Then, after his duty, he was going to pick me up around 1700, to have the RV8 hangared to keep it warm the next day.
The hangar was clean, well organized and warm !! What a difference with the Resolute one !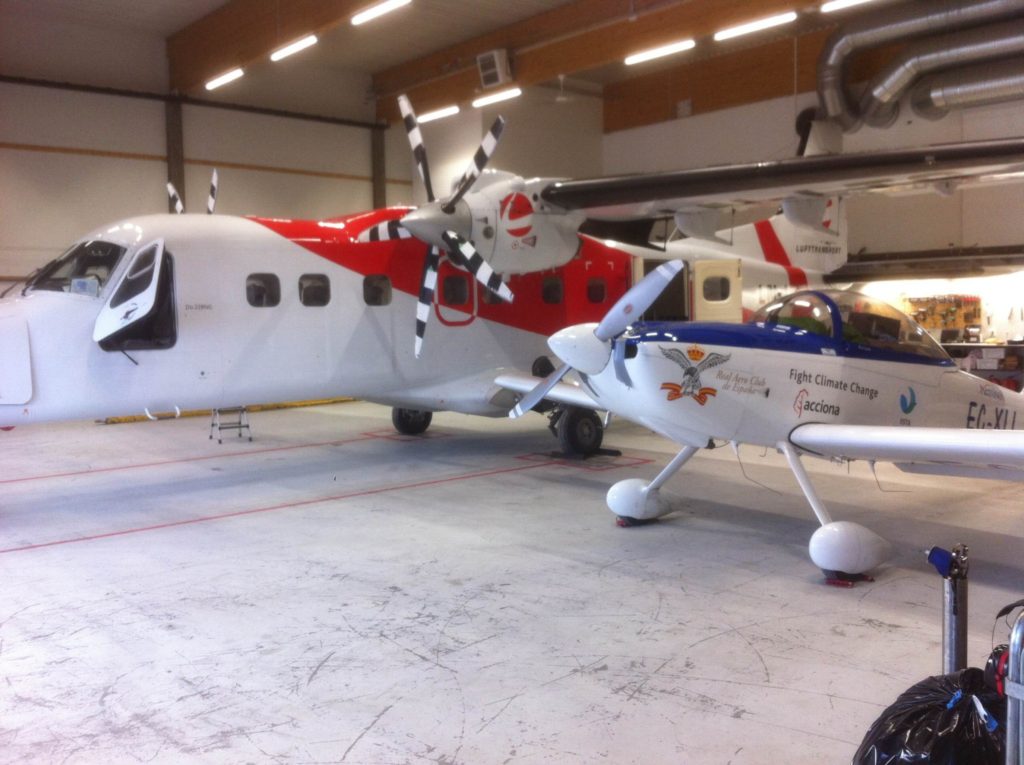 Also everyone around was kind and helpful.
Once I got my rest, and the aircraft well conditioned, he had a nice dinner at a local restaurant. I didn´t feel well already, and was coughing, so you got first some medicines to help.
Tom had the next day free, so he invited me to a nice hotel to have a wonderful breakfast there. He had, during the short stay, a lot of talking.
No way to see a bear, however.. They are around, but keep usually away from this small 2000 people city.
Svalbard is Norway, but it is not Norway. It is under a special status and other countries (as Russia) can have their area too, although military are forbidden there. Even North Korea is present there !
It is interesting to know that the local graveyard is not longer used: bodies burried inside permafrost, don´t discompose and just keep frozen !
I had my AVGAS 100 LL sent from Tromso. Just 250 liters (200+50). The airport took care of the transportation from the harbor into the apron. Before departing, I had the airplane prepared and refueled.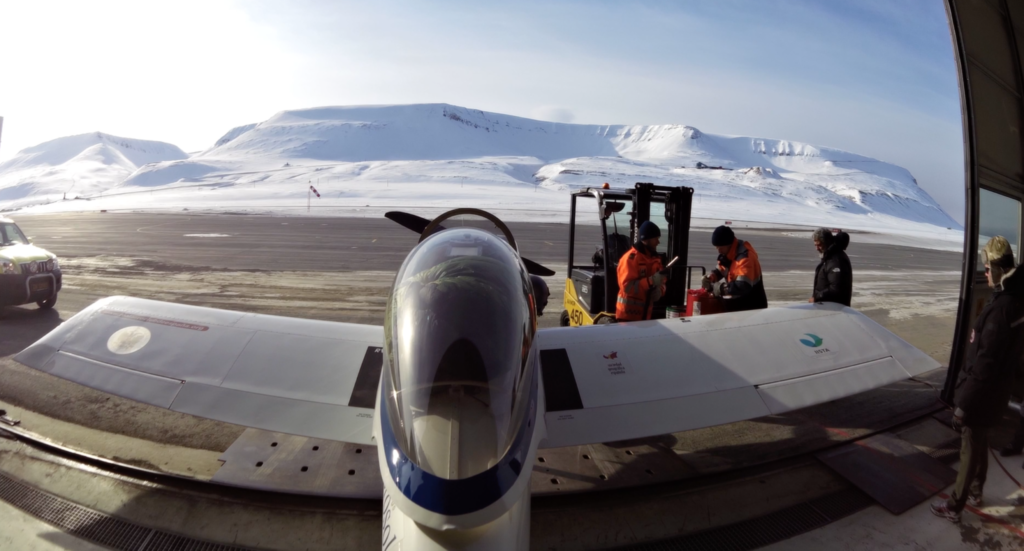 Weather was right but not good into Alesun Vigra, my next destination. Once I was cleared of the Svalbard mountains, I will have to fly low, under the freezing clouds…
I took off into the Fiord, accelerated and rocked the wings to say good by and thank you to my new friends. Then I pulled back the stick and climbed like a heaven sick angel. In fact, the heaven was up there !
Beautiful scenery, and white mountains trying to reach me. Sometimes they did and I played with their tops.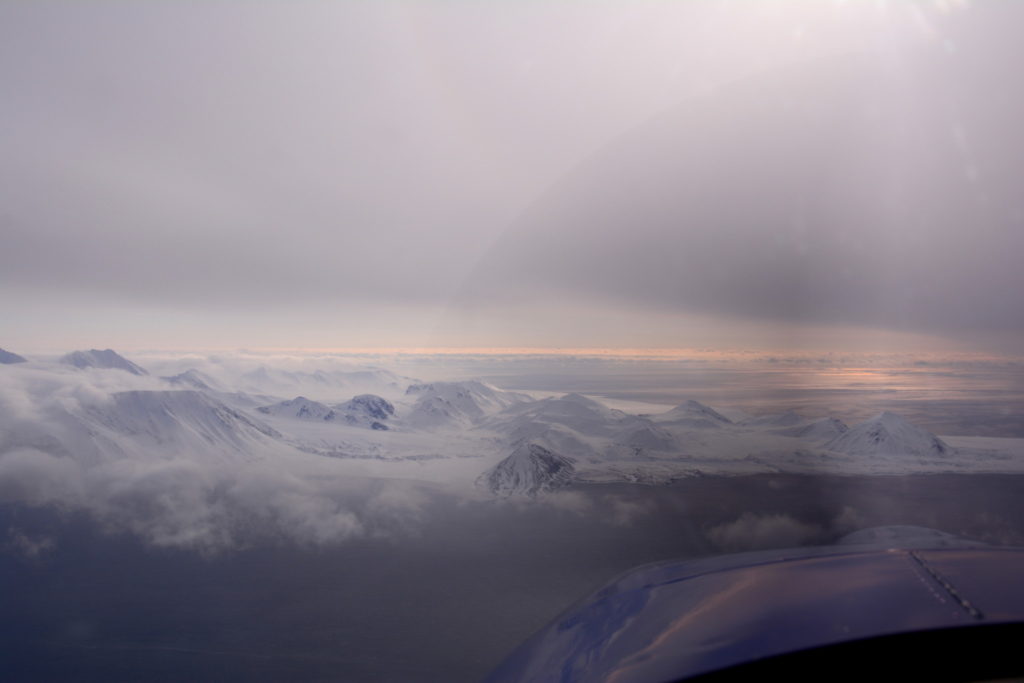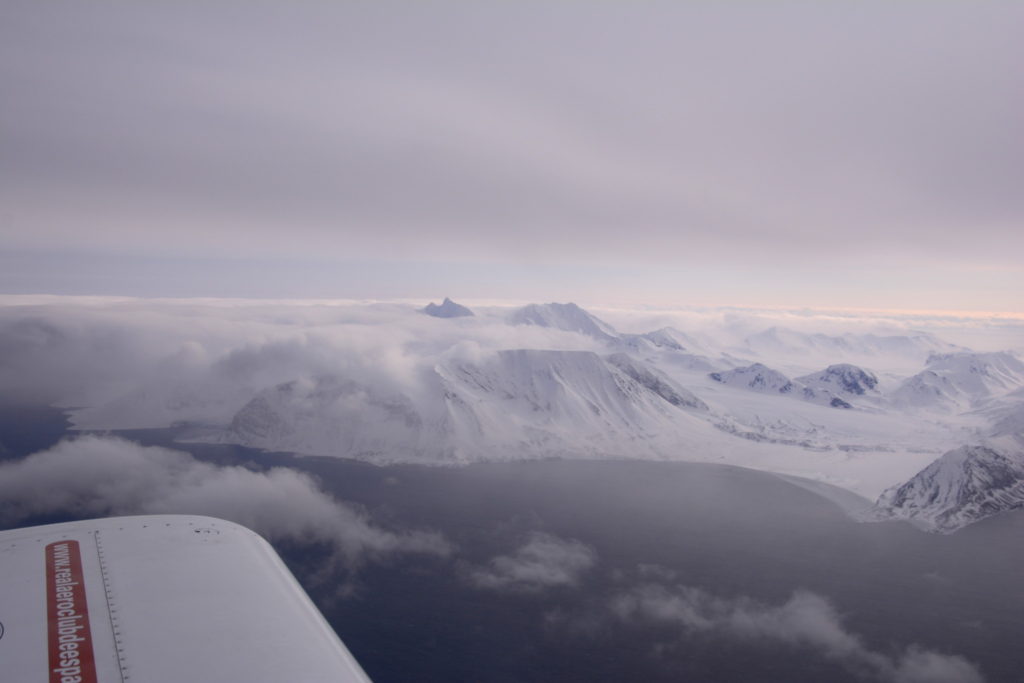 Then, again the ocean, with fancy broken ice floats, and wind, and thunderstorms.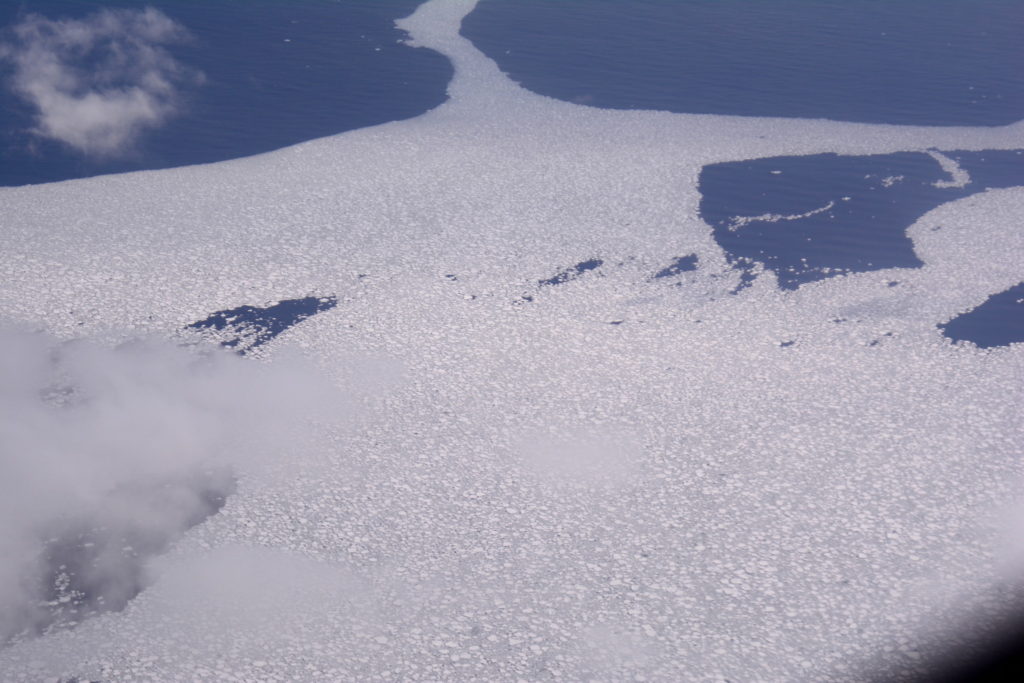 I decided to fly into Andoya instead of flying direct into Vigra. That way, I could enjoy the shore and survival chances were higher. I was able to see the first ships of my north hemisphere flight.
Many fishing ships were around, so I decided to remember my Air Force P3 flying times and went down to identify the suspected one. Identifying was made just by reading the ship name, so I had to be very close. Also, I had to be careful about the aircraft heading: cutting the ship bow track, by 45 degrees indicates the ship Captain that he has to follow the aircraft !
Weather was indeed bad and I had to avoid many showers. Some nice good weather was also present, but it was not the general rule.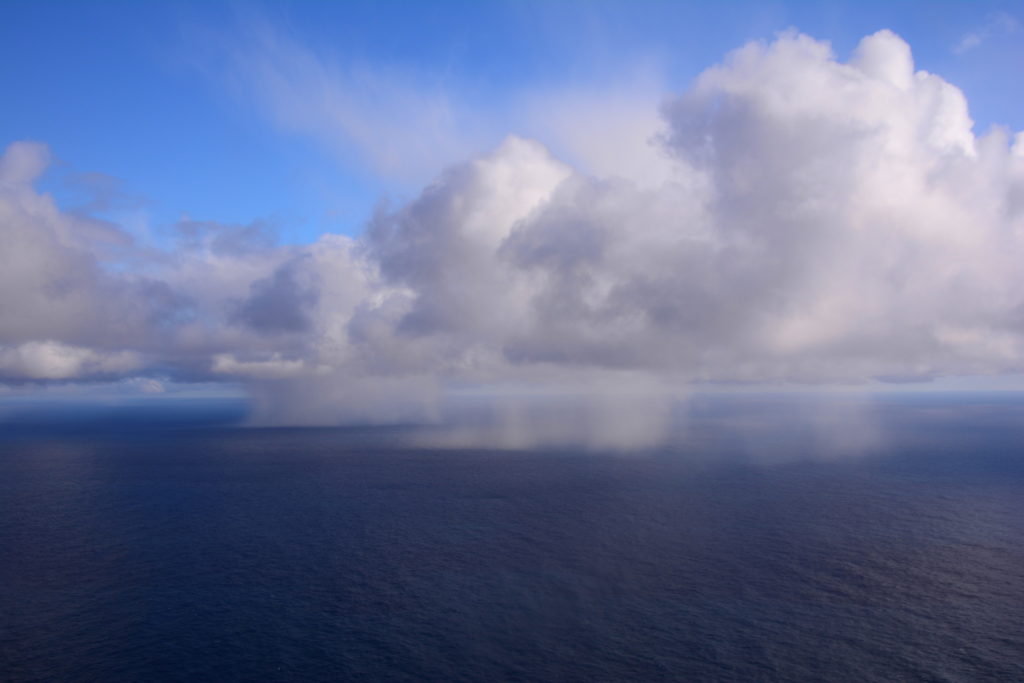 I was surprised to find a military ship patrolling surrounded by many fishing ships. May be it was there to control the fishermen.
Also it was nice to see the temperature rise from -11C to +5  at 1500 ft!
The Norway coast line is really beautiful. Plenty of colored scattered homes were around, at the end of the fiords, surrounded by small islands and pristine waters.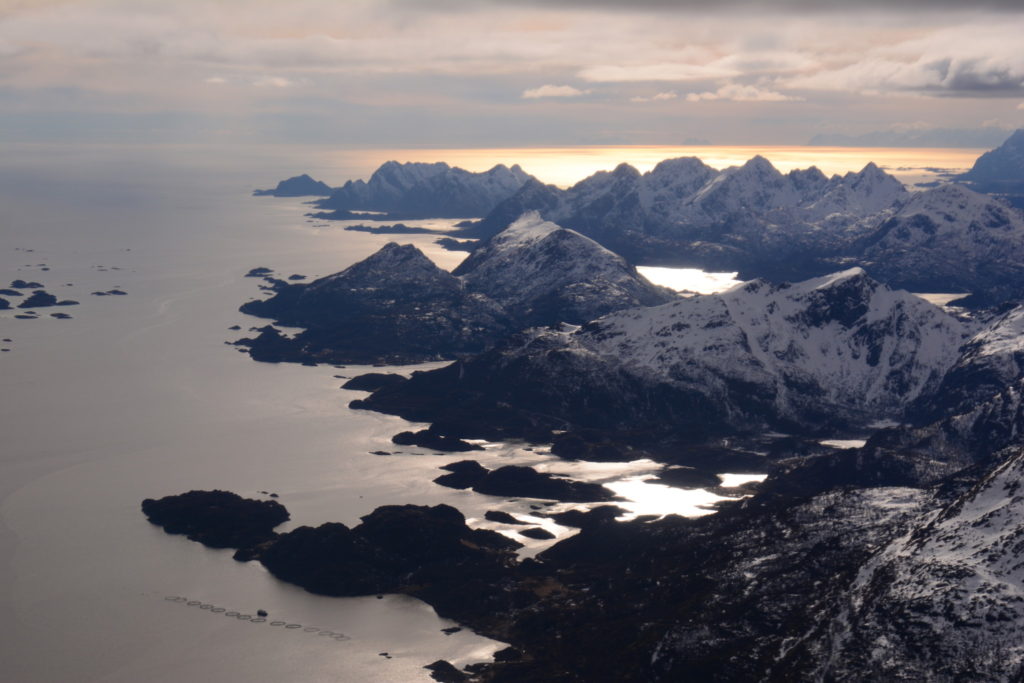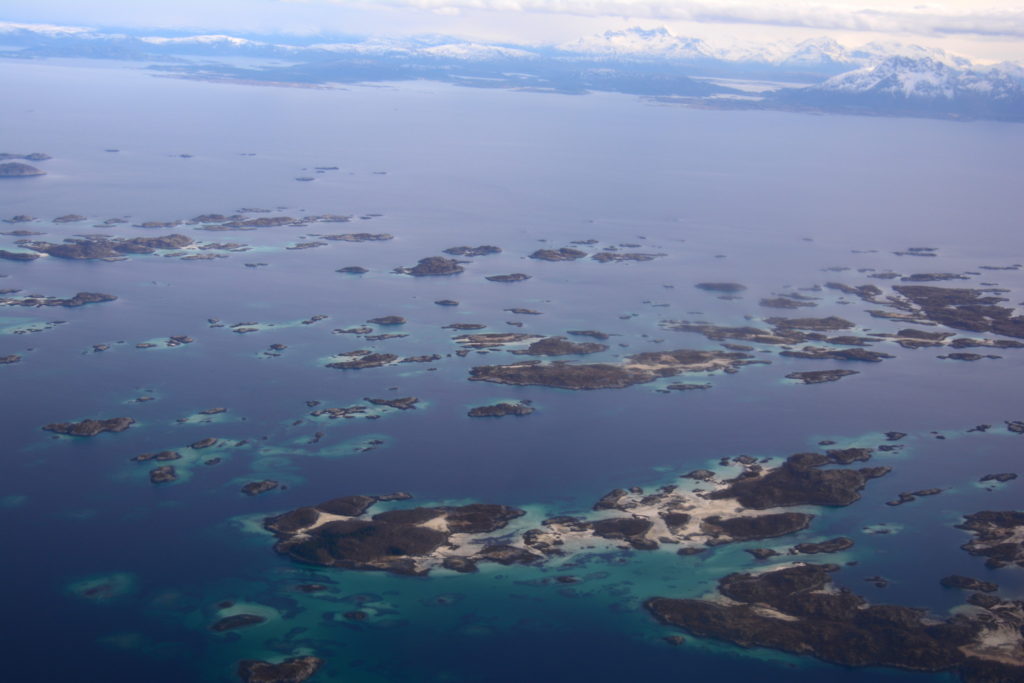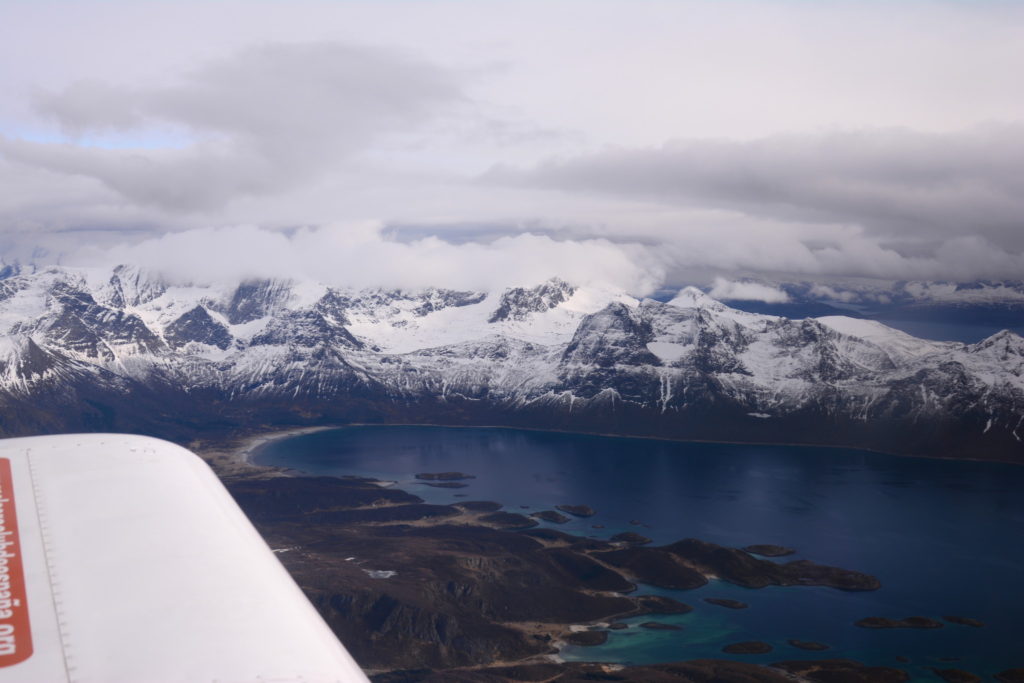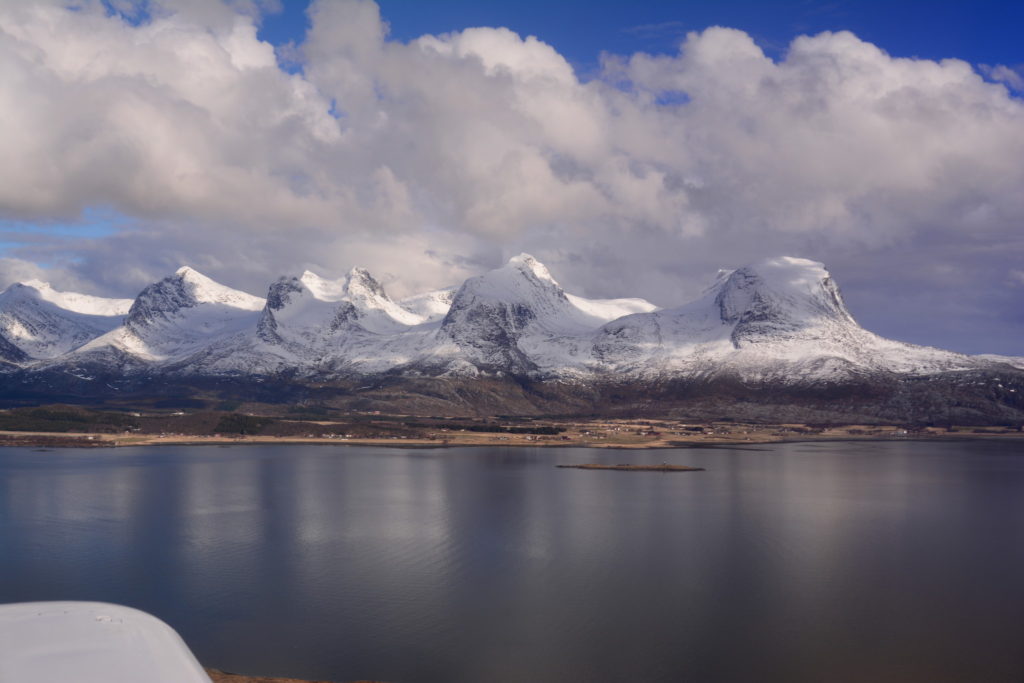 The perfect place to escape and relax for days. The perfect place for a writer, for a photographer, for a dreamer. Sure I will return there.
Something that I was surprised with, was the kindness of the Air Traffic Controllers and their radar and VHF coverage. That provides a lot of confidence!
Some seven and a half hours later, I was aligned with the Vigra airport runway 25 and cleared to land. What a beautiful flight !
Atle was waiting for me.