It is the first time I have been at Friedrichshafen.
Not so easy as it might look. Too many conditionings factors were involved and being there was for myself, a true achievement.
Since my arrival there, April the 21st, I have been treated really well by the Organization. All was kindness and support, starting with Ralph, the follow-me driver.
Once the show activity was over, I was cleared to cross the runway from the south ramp into the north one. Meanwhile, I tried to change the mike cable from the mike itself into the helmet. I walked into a huge hangar at the south apron. Soon I was directed to an avionics engineer that straight took care of me and my helmet. Few minutes later, he changed the dammed cable and no way he wanted the job to be payed !
What of the best parts of these kind of flights is to meet people like them. It opens the will to help others, too. Nice people are around, indeed!.
So, in the evening the aircraft was stationed in front of the big entrance that was to be opened the next day at 0800 am.
I took a taxi into the hotel and was really surprised to learn that the taxis there, waited to have full occupancy before departing. The taxi is shared with other customers !
I have seen that only in third countries and was really surprised !.
Next day, there I was at 0800 am. And there they were!
The aircraft was pushed a few hundred meters and displayed with the show ones ! What a privilege !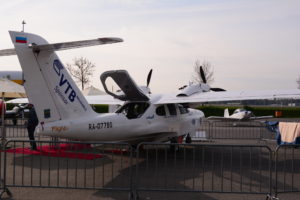 The russian seaplane, the one I would like to fly round the world!
My RV was happy to be clean. And happy that so many visitors visit her ! Also the feeling of the Zeppelin balloon ship flying around was a new experience for us.
Myself, I visited the show as much as I could. I was to visit also some of my sponsors, like Rocket Route and Paraphernalia (parachute). They were really kind with me.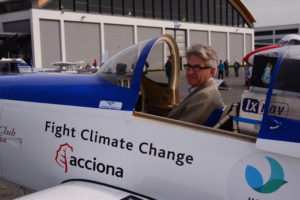 Aerokurier Magazine Director, sharing the experience!
Also I visited Garmin and explained them the issues with their equipments when flying over the North Pole. They were astonished and open minded. I promised them a full report.
My survival raft, orange version. Imagine sitting there in the middle of the ocean…
Many spaniards were around, some visiting, some at the booths. Juan (who provided me the Iridium Satcom), was also there and I was glad to meet him.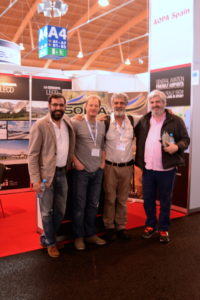 Juan, the other Santa Claus
But my mind was not free. Weather predictions were really bad. Would I stay longer, and I would be blocked there.
Only way was to depart that same evening, but where?
A small opening was predicted around the Lyon area. Then, everything would be closed even for days.
Painfully, I decided to leave and filed a flight plan for a 1730 departure. Even though the engine was ready at 1715 and I accepted to use the turf runway, I had to wait until 1730. The controllers were quite strict. Oshkosh ones are strict also, but much more efficient.
I flew again very low, shaving the mountains and enjoying beautiful landscapes.
Swiss controllers came into frequency and soon they asked me about intentions.
Well, in front of me it is cloudy, but I think that I can go through…..
They didn´t like that and order me to fly east of the mountain range, into lower altitudes.
EC XLL, proceed from present position to SPR and then to Annemasse !!!
No choice but to comply.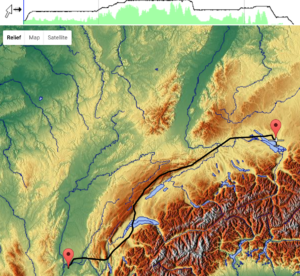 Altitude versus path
Annemasse is a nice airfield east of Geneva. Some 15 years before, I flew my Kitfox there, in formation with my friend Guillermo Cabarcos one, and my friend Miguel Garcia Skyranger.
We flew over Geneva airport at 7000 ft, looking down to the airliners landing underneath.
Then we spiraled down into Annemasse airport ….
It was so windy that we decided to land in front of the wind, of course, outside of the runway !
Nice times those.
Once I reached that airfield, and after some radar vectors, I was cleared into Lyon airport.
All of a sudden, I was in the path of the cables of a cable car. The mountain slope was quite steep, and I didn´t imagine I could be so close of those cables. That is the reason VFR is VFR. See and avoid! Surprise can be anywhere !
I forgot to say that since flying over the North Pole, I have not been able to navigate with my Ipads software !. Something blew off the whole systems, so I had to navigate with paper charts and my Garmins .
Lyon Bron, my destination is some 11 kms west of Lyon Satolas International airport (ooops, now it is Lyon St Exupery, the Little Prince autor). I was not able to fly direct, because of a huge rock straight in my nose, toped with dark, almost black clouds. Grand Colombiers was the last threat for this flight.
Lyon approach controllers cleared me for a direct into Bron airport, and soon I was cleared to land runway 34.
Everything was fine and soon I met local pilots. Walter putting tapes all around his airplane
What is this for?
Because of the rain. It enters everywhere in the plane
Walter flies a Marcheti SF 260 airplane. He is a Sky Writing pilot, one of those who writes feelings up in the blue, for all of us to know, and the one to cry.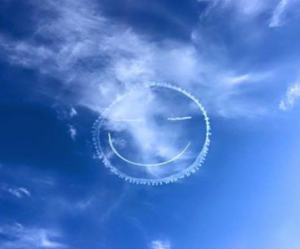 Walter´s job, writing the blue
Soon we felt very comfortable and he drove me into the hotel airport. Then, he drove me to the Aeroclub, where I met several other pilots. France is a sport aviation country, and Lyon was the right place.
I already did know that I had to arrive into Madrid Cuatro Vientos at 1030 on Monday. The Ministry of ¨Fomento¨ was waiting for me and I could fail.
It was Friday evening and Saturday was a No-Go day, because of that weather. It was not easy to stay the Saturday at Lyon, but it was wise.
So, I decided to stay and visit the city. A nice city indeed.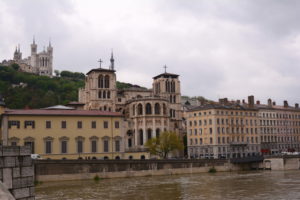 Lyon, the river
I love letting me go without heading in the cities, and discover places that may be I couldn´t if I follow a fixed path. Then, all of the sudden, I saw the model aircraft shop I never expected to find.
It is called ¨JET¨.
It is a very old one. And it was the one I first ordered something from abroad, when I was younger than now, some 46 years ago….
It was a true revival !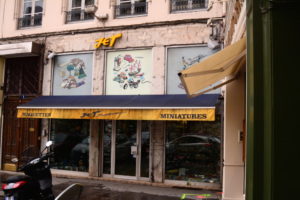 I think that I still keep the invoice of that order !
Sunday was a conditioned GO day.
Rhone valley was not too bad, and wind was blowing hard from the north. Problem was the north of central pyrenees mountains where earthrounder Flemming was waiting for me. Weather was not good at all around and it was not sure that I would be able to depart into Madrid early no Monday, to arrive at that 1030 appointment. So sadly I had to take again the wise decision and cancel the visit.
Requena, east of Madrid, was going to be the destination.
-Lights… OFF
-Eyes trims… positioned to DOWN
-Snoring system …ON
time to sleep: next day I would be back in Spain !