SKYPOLARIS
Being one of its nearest witnesses
By Paula Saiz de Bustamante
When I met Michel for the first time (just before I became his partner), he explained to me he was building an airplane in his garage in order to fly around the world, over the Poles. I was completely astonished, I thought he was joking. As I come from the healthcare sector, far from aeronautic field, it was difficult to believe.
At that moment, nearly six years ago, the plane had a lot of work remaining to be finished. When I saw it, I thought that Skypolaris was nearly an impossible task to be achieved. Time went by and I was able to get involved with Skypolaris and thought that Michel could make it. Even though, imagining Michel flying over Antarctica made me feel a little dizzy.
I have been a witness of all the difficulties Michel had to overcome for Skypolaris to become true. It is a "homemade project" from the beginning to the end. Michel fought hard for support. I can tell you he knocked many doors and never stopped knocking new doors until he got the right ones.
I had the opportunity to do several flights with Michel in his RV8 before the flight Skypolaris took off, so I have been able to feel "in the air" Michel´s passion for flying. This helped me to understand the project better and learn about Michel´s dreams.
During those last six years I have seen how Michel worked in his plane, studied meteorology conditions at the poles, prepare his airplane for the scientific research, look for the best way to have fuel everyplace he would land, fought for sponsorship.
I have seen how the people near him believed in the project and helped Michel.
I was proud and got more involved with the proyect Skypolaris when it was confirmed to be the platform to measure the atmospheric black carbon in the most remote areas of our planet,. As a human being, I know we need those type of studies to make our planet more "healthy". Granada University knew it also.
At the end of year 2015, everything was almost ready to start the project but many issues were still to be solved to start first with the South Pole flight. Michel decided then to focus on the North Pole flight and wait to see how things would be solved for the South Pole one.
During the North Pole Flight I spent part of my day watching the track to see where the Rv8 was and also being prepared would an SOS call happen. There were some difficult moments like when Michel called me while crossing the Atlantic Ocean just to tell me HF comunicacions failed, and that he couldn´t communicate with controllers. He asked me to get Guillermo (a friend who could do those type of things) to contact Recife, then I was worried. But the worst moment was when I was flying back to Madrid from Mexico DC, after spending some days with Michel, without knowing if he would get the VISA to fly into USA. When I landed at Madrid airport, I could read the message which said that Michel would not get the Visa. My worries then were strong:, could he make it to Canada without going into USA? Which were his options to continue with the flight?
Michel decided to fly into Canada with no support from USA airports and that was really worrying. Once he landed at Windsor (Canada) I began to breath better… but then he would have to go through very difficult flights to reach Resolute. He made it, he landed at Resolute and found out that there everything was extremely expensive. This was as well very hard as his sponsorship for the first phase of the flight was really small.
Michel was tired but the good weather helped him to take the decision, he would fly over the North Pole the day after he landed at Resolute and then we all were very worried again 🙂
It was very exiting to follow the flight over North Pole and to be a witness of an historical Spanish achievement, "Michel was the first Spanish Pilot to overfly North Pole in a light single engine aircraft"
I was very happy the day when he landed at Svalbard and could share with him his joy at first time in the morning, on the phone. He was near continental Europe, and the difficult part was done already. I only had to wait for him to reach Madrid the 25th of April. I have to say that crossing Europe was not easy for Michel, as the weather was not the best for his Rv8 to fly.
Spanish Authorities realized then how important was Michel´s flight and they would be waiting for him at Cuatro Vientos airport. When Spanish Government said they would be supporting the Skypolaris project in the South Pole phase, I knew, then, Michel would make it.
After a summer hard work preparing the Skypolaris second phase, the 1st of October Michel took off from Cuatro Vientos to study the southern hemisphere. I felt it was a much more difficult flight comparing to North Pole one. He had a better support (Acciona, Spanish Government, Copac, and crowdfunding, amongst others) which made me feel better.
In this second flight, I was involved with more aspects of the project, this made me feel more conscious of its ongoing. I felt that the first important achievement for Michel would be to fly over Africa, and get out from that difficult continent as soon as possible. Michel had to fly first over the Mediterranean Sea, then over Egypt and over Sudan, to finally land at Kenya. I felt dangers could be everywhere in Africa. If communications at hotels were good enough, we managed to talk by skype. Knowing about him made my life easier and more relax.
Skypolaris team got an SOS message while Michel was flying over the sea, and I decided to telephone him, there was not time to get nervous as he answered immediately. We could check then that the system sent a false SOS message, and this was a problem to be solved. Everyday Michel had to solve all kind of problems so as to continue flying: it was difficult for him to enjoy "sightseeing".
Then, he flew over the Indian Ocean, landing at Maldivas where he got human and technical support from good friends. When Michel was in good company, my life was easier too.
Once he finished with the Indian Ocean, he landed at Australia Continent, where things began to get better. People from Australia are nice and easy in general. I thought then Antarctica began to be "near" and I started to be more concerned about dangers.
I worried about the way Michel was living, what he was eating or how many hours he was sleeping and if he was alone or not. All those aspects where very important to keep his good shape for the big flight over Antarctica Continent. I knew he would be in good company again in Tasmania so when he landed at Hobart, I could relax again.
Here in Spain, when Michel was flying, we kept publishing information about the flight at Facebook so as followers did not miss details of the flight. When he was not flying, Michel kept very active informing people about the ongoing of the project, this was another duty that made him be very busy all the time.
He was on schedule and the first of November, even though the weather was not the best, it was good enough for Michel to cross the Southern Ocean. I was very worried about that flight and followed every minute of it. Michel made it after 17 hours and landed at Mario Zucchelli Station. Bravo… Bravo… Incredible, he was there, at the Antarctica Continent and it was a matter of time and weather for him to fly across the Continent and write a new chapter in the aeronautical history.
After just about a week, the 9th of November Michel took off from Mario Zucchelli, living good friends there. We all knew it was going to be a long and difficult flight. I followed it at the same time a team of friends did also (Javier, Enrique, Andrés, another Javier, Matevz, Manolo, Guillermo, Jose Luis,the family…), we shared difficult moments while watching the Spidertrack positions. It was night time in Spain but we all were not ready to sleep, knowing Michel was in the middle of nowhere…. At the beginning the aircraft was flying too low and too slow and we all worried at the same time.
At two o´clock in the morning Michel phoned me and said that headwinds were too strong and that he would not reach Marambio would the winds keep the same, with the fuel he had. He asked me to phone Don (USA) to ask him to communicate with Union Glacier (Antartic Logistics Expeditions) so as to get some fuel from them to continue the flight. But nor A.L.E. (Union Glacier), nor British station (Rothera) would help Michel in this issue. Me and Don were very very worried, although I had a feeling he would make it into Marambio.
I think Michel made some good deal with someone in Heaven who brought favorable winds and he could make it to Marambio at last!, a friendly station as Mario Zucchelli has been. Michel made it! He was the first Pilot to overfly full Antarctica Continent in a light single engine aircraft: it was an historic achievement for Spain and for the whole world. I felt very happy for him, he deserved it. IT WAS A UNIQUE MOMENT THAT WE ALL CELEBRATED.
While Michel flew from Marambio to Ushuaia (difficult flight) I booked a ticket to fly the following day there too, to share with him the joy in a unique historical moment, as well as to help him with the logistics (carrying things for the aircraft) . When I met him I found he was very tired but happy. People in Argentina were very nice to us. I could see how busy Michel was solving problems related with the flight, but we managed to fly to visit Perito Moreno Glacier for a couple of days… I suppose it was a small glacier for Michel to see, but he enjoyed it and could rest a little bit there. I found Perito Moreno was superb, and to be there with an hero made it better 🙂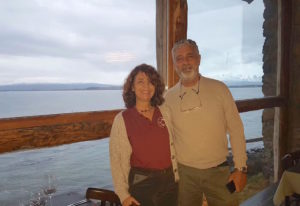 After a week in Ushuaia, Michel had recovered a little bit from the 21 hour flight over Antarctica and was ready to continue. I came back to Madrid and Michel went on with the flight through South America, to finally get the big achievement, to complete the Round about the World over the Poles.
Michel landed at Cuatro Vientos in the middle of December, an historical month for him, the family and for the spanish and worldwide aviation. I felt very proud of him. Well Done !! It is a great achievement Michel!
The Scientific unique data has to be analyzed yet, although I am sure it will give us an important information so as to improve the "health" of our planet.
It has been very important for me to be with Michel in this unique Project, Skypolaris. Some people are brave enough to do things that contribute to the development of human being. They deserve our support!