The small black particle, was just born.
Then, it raised up in the air and started to turn inside a small thermal, then into a bigger one.
The storks and vultures were also turning the same lift but soon, the small intrepid black carbon was left alone.
Hours and days were drifting it, and then, then….
A huge wide open mouth engulfed it.
It was an alien machine, with lasers, and strange thinks…
I got you !!!, EC XLL got you, and now, you will never be unknown. Now, we will find out where did you come from, and who was your creator.
That is called..¨aethalometer magics¨.
And there I took off, to find many black carbon venturers, even at remote regions.
It has a hard job to comply with the scheduled take off day.
Many friends were present at Cuatro Vientos airport, and also the big sponsors.
Again the ¨Real Aeroclub de España¨ President, Jose Luis Olias, organized everything.
Also Enrique (Aviación Digital) and Javier Alonso (Geographic Society) did they support and provided what this beautiful project needed.
Soon it was 1300, and I had to leave into Casarrubios, a small airfield where I wanted to refuel and have a lunch with my closer friend and family. It was very nice but soon it was late.
I planned to leave at 1615, but I did at 1700.
What a huge mistake !!!!
I wanted also to install a small trim tab. Half the slip indicator ball was right of its center. The trick is a very old one. Those 1930 pilots were clever: they used a small lenght of rope glued to the rudder trailing edge. The trim was very effective and the goal was to have the ball the opposite side. Then, they reduced its length until the ball was centered.
Later, a triangular shaped wood stick was used for that. So, I had my 8×8 mm balsa wood stick ready to be taped to the trailing edge of the rudder.
The reason is that the belly tank induce a small slip to the airplane.
First, it is ugly to see the ball flying away of its coordinated position. Then, the fix has to be only for the time I use the belly tank. And finally, showing the airplane at Cuatro Vientos with the stick and tape, doesn t provide confidence to the on-lookers.
So I decided to do the job after lunch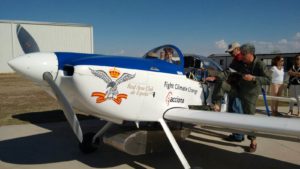 The flight was uneventful, once I did the low pass, rocking the wings, to say ¨ see you later, guys !¨.
Some people were happy, other under emotions.
Left turn into the east and direct to Menorca San Luis airport.
EC XLL ….Palma Control
The sunset is in 25 minutes and you estimate San Luis in one hour….
mmmmmmm….what are your intentions????
I was about to tell the lady that my intentions were good, but I would be a liar.
Sooooo, my intentions is to fly to Mahon, instead of San Luis.
Ok, EC XLL, just call me back when you want to go IFR.
Dammed late coffee and dessert at Casarrubios ! Now, I will have to pay huge landing taxes and may be a mandatory handling.!
I landed black dark and once I got the parking stop, I jumped out the aircraft and run next to the border of the ramp.
My bladder was full, but didn´t comply until stablished on ILS.
What a nice moment !!! So relaxing. Even the car that arrived didn´t disturb.
Once everything was in order, I turned back…. and face the handling women !!!
Mmmmmmmm, nice to meet you. You understand …yes?
She was kind enough even to give her hand for salute.
The fact that she was nice hand helpful and soon, I had a hotel room booked and could start my rest.
But it was not a good night. Still to tired !
Early get up, fast micro breakfast, and there I was, at the airport at 0800. Take off time @ 0915.
Everything was right, but I had to file again my flight plan. Mahon tower didn´t received my computerized flight plan.
Take off was straight but I had to maintain 1000 ft for 20 Nm
Weather was good, and soon I was cleared to climb and reach colder winds.
Problems are the communications. The belly tank is blanking the radio waves. Poor transmit and noisy receive.
Soon I started playing with both the VHF, depending where the station was relative to the plane. That helped a little bit, but just a little.
EC XLL, Barcelona Control: Marseille wants you to know that you will enter Algeria FIR if you maintain your present heading.
Well, FIR is not their national space, but why to discuss: left turn and avoid Algeria.
Not much to see overwater. Just some huge ship tracking the same course. So some playing with power, EGTs, Mixture, and things like that. Finally I found a setting that I liked, and then, Sardinia.
Beautiful cliffs, and bays !, but I would not reach them if the engine quits.
Another big kiss to the airplane: dear engine, do not quit !!!!
Finally Gozo was in sight. I prepared everything for a south VFR entry ( plenty of reporting points). But I was cleared to proceed following the north coast. I was not happy !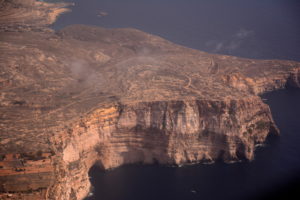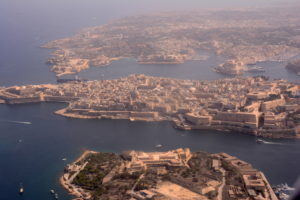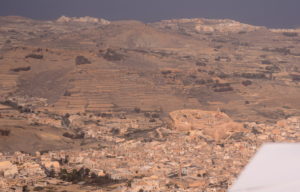 This time I turned the ¨watch¨function of the spidertracks. After landing at Mahon, and 10 after cutting the electric power, an SOS message was sent to the Tielers one. Problem was that they received my landing report, but via mail. When an SOS is sent, the message is also via SMS.
So, if you didn´t received the email and the sms on your phone appears…it is like a heart attack
Now, we have learned again ! ( spidertracks advised clearly in their manual that this kind of false SOS happens ….yes !)
Now I am stating in the small hotel at the center of Valleta (Malta). What a nice city !